We have the best Bangladeshi WooCommerce and Wordpress Plugin
Passwordless WooCommerce Login, Registration via OTP SMS
Order Notifications SMS Can be sent to Admin, Vendors & Customers
Unique Review System
Back In Stock Product SMS notification
CheckOut OTP
Supports: Contact form 7, QuForm, Gravity Form, Awesome Support and others
Highly Optimized Wordpress Plugin, Sessionless.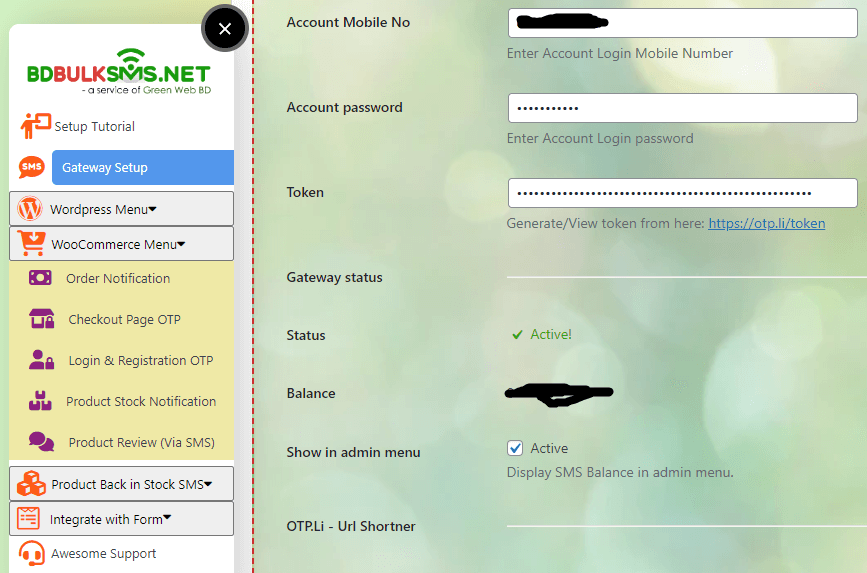 Wordpress Plugin Setup Tutorial :
Fully customizable Wordpress SMS Order Notification System
Order notifications can be sent to WooCommerce clients using our Wordpress SMS plugin. For different order statuses, you can configure and send different sorts of SMS text. Our WordPress and WooCommerce SMS plugins support custom order status! You can also send SMS on any custom order status. Also if you want you can only send SMS for the desired status and you can keep SMS disabled for the rest of the status.
Order Notification SMS can be sent to Wordpress Admin, Any Fixed Number, Vendor & Customers.
Supported Shortcodes:
Order id, Order number, Order status, Total Price, Billing First name, Billing Last Name, Payment Method, Purchased Items name and quantity, Shipping Address,, Customer Note, Order View URL, Order Payment Link, Ordered Products Link etc.
ScreenShots: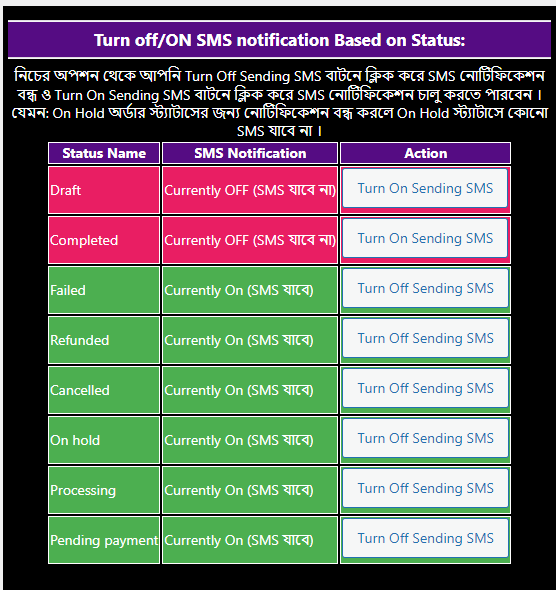 ---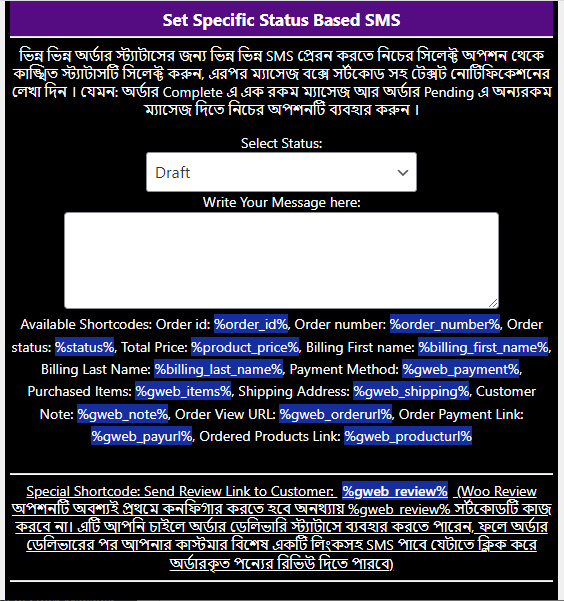 Best OTP Plugin for Wordpress & WooCommerce sites
Go Passwordless !
Customers of your WooCommerce website can login to their accounts using an OTP code instead of a password by utilizing our Woocomerce SMS plugin. You can disable Password wise login completely and use OTP SMS based login system using our wordpress plugins. Alternatively, you can keep both password and otp based login system.
ScreenShots: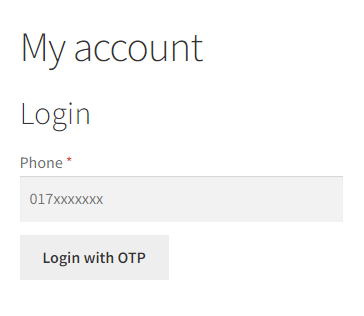 ---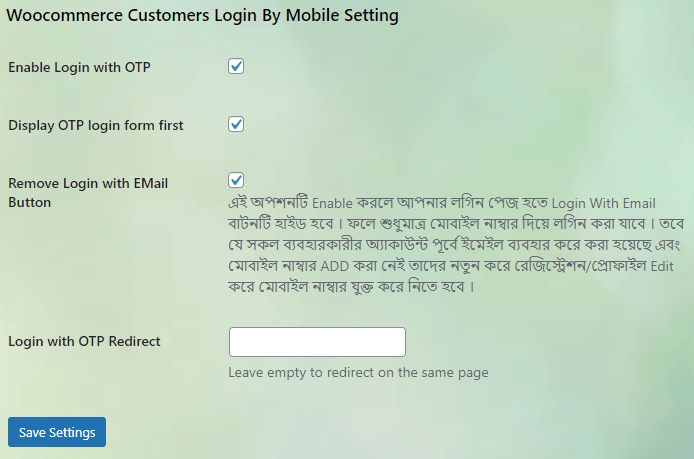 Register your customers account less than 20 Seconds Using OTP Code!
Go Passwordless !
Using our plugin, your users can create accounts using only their cell phone number and no email address. Both the email and mobile number options can be retained if desired.
ScreenShots: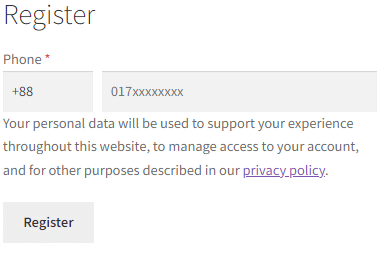 ---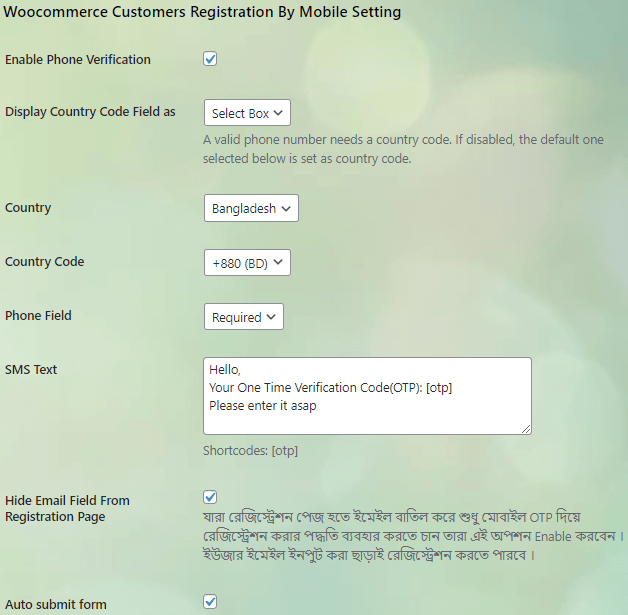 WooCommerce Checkout OTP SMS Prevent fraudulent orders!
Sorry Abusers!
Our WooCommerce OTP Plugin can be used to prevent fake checkout. You can use the OTP system on the checkout page to avoid fake orders on your site.
ScreenShots: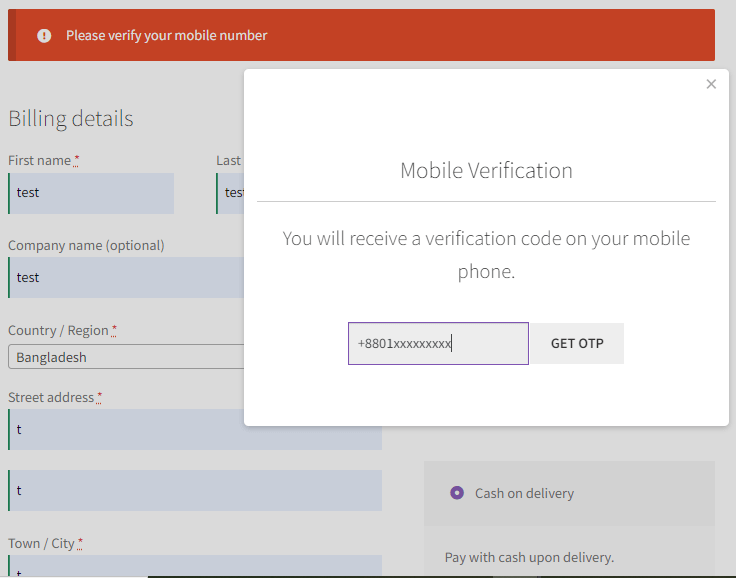 ---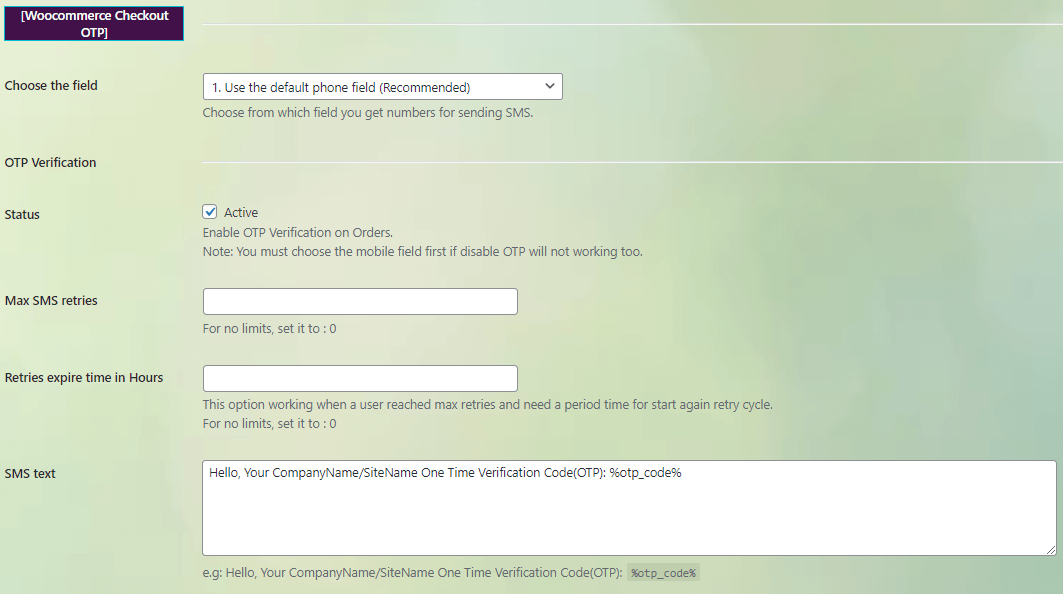 WooCommerce Product Review Via SMS! Send link & Get Review
Simple & Effective!
You can create and SMS your clients a unique review link after you've delivered the product to them. Using that unique shortlink, your customers will be able to leave reviews for the things they've purchased without having to log in. This feature will encourage more product reviews from your customers on your website.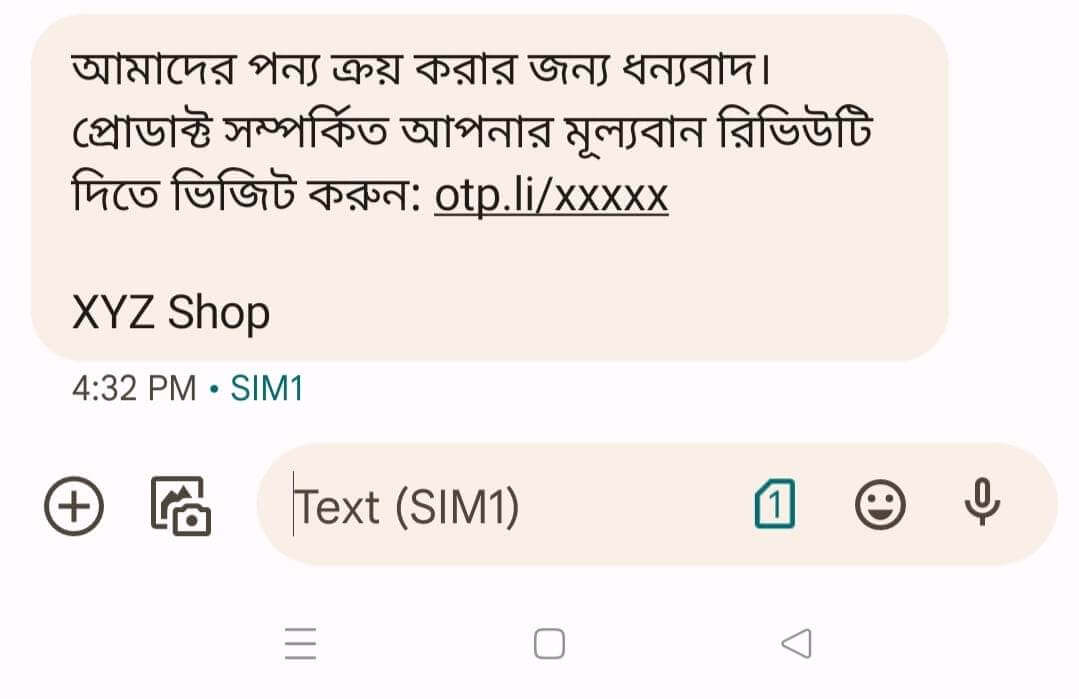 WooCommerce Multivendor Supported SMS Plugin !
WCFM, Dokan, and a few other multivendor plugins are supported by our SMS plugin. Only order notifications can currently be sent to the merchants. But with later upgrades, we'll introduce more functionality.
You can reduce sms cost by using our url shortner service. Its free and you can configure it easily from the wordpress sms plugin settings option.
Your Wordpress users will be able to login using OTP feature. These who dont use woocommerce and want to use OTP system login for wordpress users can use this feature. It will prevent fake account creation.
Your consumers can sign up for out-of-stock products using their cell phones, and when the product is restocked, an SMS will be delivered to their phone. Your sales will significantly increase if you use this strategy.
ScreenShots: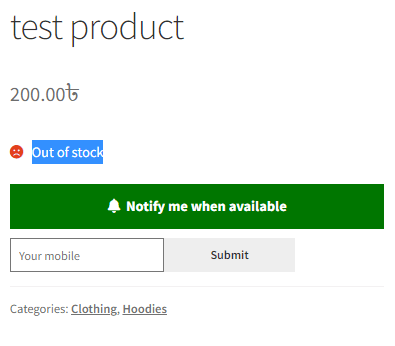 You can quickly send marketing or promotional SMS to any mobile number by selecting it from the database.
Gravity Forms SMS: You can create any kinds of form and send form data via sms to the admin and form submit person.
Quform SMS: You can create any kinds of form and send form data via sms to the admin and form submit person.
Contact form 7 SMS: You can create any kinds of form and send form data via sms to the admin and form submit person.
WP Job Manager SMS
Awesome Support